Event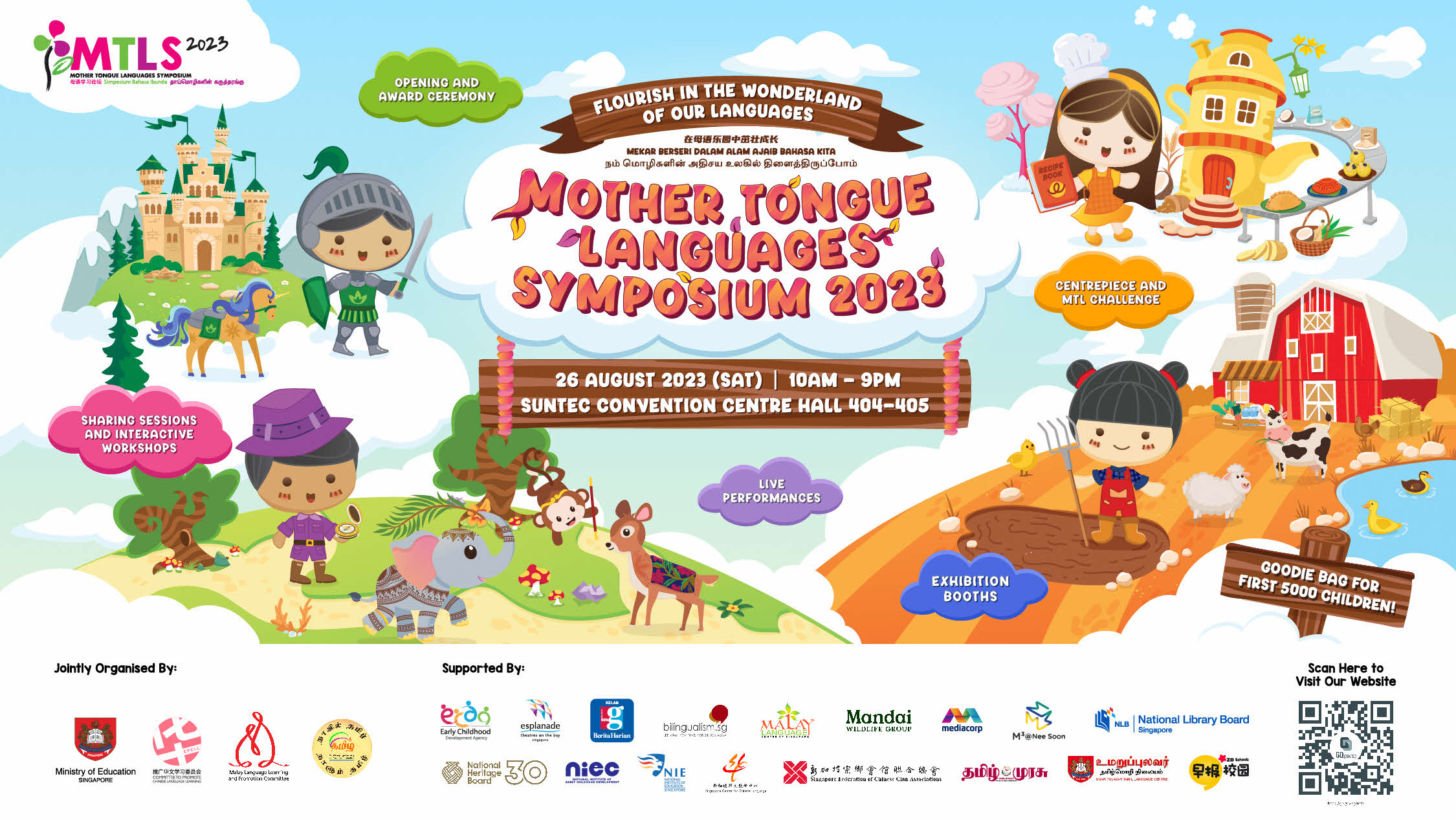 The Mother Tongue Languages Symposium (MTLS) is an annual event co-organised by the Ministry of Education (MOE), the Committee to Promote Chinese Language Learning (CPCLL), the Malay Language Learning and Promotion Committee (MLLPC) and the Tamil Language Learning and Promotion Committee (TLLPC). With the aim to promote our Mother Tongue Languages (MTLs) by showcasing good practices and efforts by both schools and the community in the teaching and learning of our respective MTLs, the MTLS is targeted for educators from the pre-schools to lower primary levels and parents with young children.
Themed 'Flourish in the Wonderland of Our Languages', the 12th MTLS will be held on Saturday, 26 August 2023, at the Suntec Singapore Convention & Exhibition Centre. The Symposium will return to a full physical format since the COVID-19 pandemic.
This year, MTLS will feature 42 physical exhibition booths with fun and interactive activities, by schools and community partners. Children can look forward to taking part in the MTL challenge by participating in MTL activities at all exhibition booths to collect stamps and redeem prizes.
Drawing from the perspectives of academics, educators, curriculum specialists and media personalities to share insights in promoting MTL literacy and appreciation, there will be 19 sharing sessions for parents and educators, and 26 interactive workshops for parent-child bonding.For more information, visit www.mtls.edu.sg now!
Fun with Bilingualism (Bilingual Carnival 2023)
In commemoration of the late Mr Lee Kuan Yew's 100th birth anniversary, LKYFB is supporting a Bilingualism Carnival organised by SPH Media Limited. Come join us at the Bilingualism Carnival with your loved ones!

Lee Kuan Yew Fund for Bilingualism 10th Anniversary Commemorative Event
To mark the Fund's 10th year milestone, the Commemorative Video, tracing the Fund's journey since inception, will be launched. Centered on the theme "Bilingualism in Singapore 2030 - Our Vision and Way Forward", experts and practitioners will share their insights on their personal experiences in learning to be effective bilinguals, the importance of bilingualism for individuals, and the impact of bilingualism in the community and beyond.
Come join us on Wednesday, 24 November 2021 at 4.30 pm to celebrate the Fund's 10th Anniversary!